Youth Savings Accounts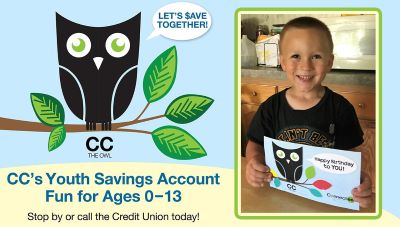 CC the Owl says "Welcome!"
Our youth savings program with CC The Owl teaches children the value of saving money by rewarding them with deposit matching and fun prizes! Learning and practicing money-saving habits at a young age will help them build a financial relationship with the credit union and a strong financial future. Watch what happens when your child receives their first deposit match! They are immediately drawn to watching their balance grow and realizing that it pays to save. Let's set them on the path to financial success together! Open a youth account for your child today. Contact the credit union for exciting deposit matching details.