Join Connected Credit Union
We want to be YOUR Credit Union
Local Service/Local People - NOW SERVING YOU FROM BOTH OUR AUGUSTA AND WINSLOW BRANCHES.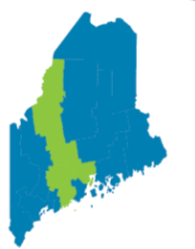 Connected Credit Union shares profits with members as they are owners/shareholders of a financial cooperative. Connected Credit Union's field of membership is for anyone who lives, works, worships, or attends school in Kennebec, Somerset, Lincoln, and Waldo Counties as well as all those who are eligible to become members of the Maine Education Association, employees of the Maine Education Association, the Maine Education Association and any of its governance affiliates, employees of the credit union, employees of the Kennebec Valley Chamber of Commerce, employees of Employment Specialists of Maine; also eligible are immediate family members including:
Spouses, children, siblings, parents, grandparents, and grandchildren, including step and adoptive relationships of persons eligible for membership.
Persons living in the same residence maintaining a single economic unit with persons within the credit union's field of membership.