ATMs & Shared Branches
ATMs
Connected Credit Union proudly participates in the SURF network. Withdrawing cash is quick and convenient at more than 250 SURF ATMs – the largest surcharge-free ATM network in Maine! Simplify your life with Maine's Credit Unions. Click the logo to search for Sur-charge free ATM locations.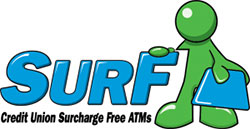 Shared Branches
With nearly 175 branches, Maine's credit unions have almost three times more locations than any single bank in Maine by "sharing their branches." That's the fourth-largest branch network in the country with live teller service! Wherever you are, you can find a credit union near you to help with deposits, withdrawals, loan payments, transferring between accounts, and more.
Click the logo to search more than 5,000 branch locations across the nation - Look for the logo at shared branching locations across the country.